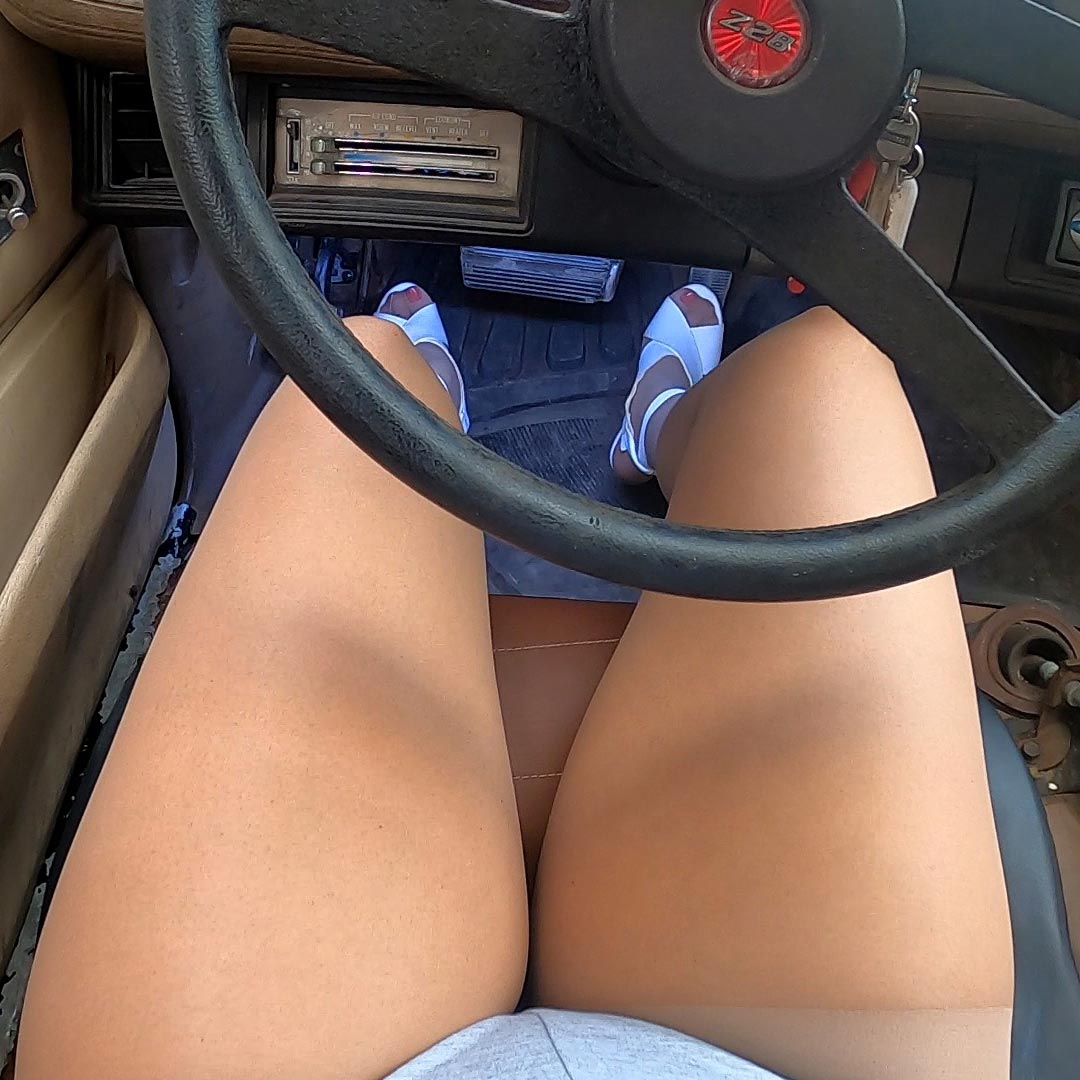 PTP 1309 – Jane Domino Sexy Sneaky Revving the Z28 in Sheer Hose & Wedge Sandals – Custom 1309
April 14th, 2021
Outfit & Shoes
Please have Jane wear the same outfit she wore in the following video: Jane Domino Sexy Revving the Camaro in White Wedges In addition please have her wear SHEER NUDE PANTYHOSE. The shoes are described as Size 6.5 White Breckelle's Sandals. The outfit was a blue color tank top, perhaps a one piece outfit. It would be great if Jane can wear the same makeup style and earrings as well.
Scenario
Please create the scenario almost exactly like the scenario from Jane Domino Sexy Revving the Camaro in White Wedges . The description given is: "This is a sexy and sassy clip from Jane Domino. She gets in the old 77 Camaro Z28, fires it up and does some good revving in these white platform wedges. She has this sexy little blue satin-like outfit on, some red lipstick and her hair all pulled up like a little beach-babe. Some great POV shots of those thick thighs as she pumps the gas pedal in the old car!"
Please make the plot basically the same, however as she is walking toward the car, she is more sneaky about what she is going to do. She is saying she is on a mission to move the car but deep down she knows she is going to rev it hard. "I have been sent on a mission to move a car, hmm just to move it nothing else " (Giggling to herself because she knows she is going to rev the hell out of it). When she first gets in the car she takes her shoes off to straighten the toe seems on her pantyhose. She says "hmm, first we need to get these seems straight". She puts her shoes back on and starts the car, warms it up, revs for a bit, turns the camera on her beautiful face so we can see her while she is revving, then makes the decision to move the car a "SMIDGE" and then revs again, building up to some very hard aggressive and even vicious revving. "Hmm I think I did a little more than just move the car, do you think the poor old Camaro has had enough?" As she shuts the car off, she remarks "All that revving sure makes my feet all hot and sweaty" and she takes her shoes off an rubs her feet together for a bit. Please do most of the revving with the door closed just as it was done in the video I referenced.
---