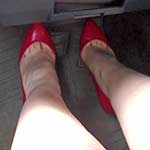 Cassandra Makes a Mess Moving the Monte in Red Pumps
March 22nd, 2019
"Just move the car onto the driveway", I said.
"It'll be easy," I said.
Stalling, stuck, flooded, cranking, revving, two-footing, frustrated and all kinds of other things happen in this clip as she tries backing the car up to pull it up and around the bushes. Reversing is made more difficult on the slightly damp dirt…up an incline…in a car that keeps wanting to die.
---