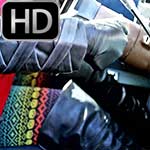 Rockell Starbux Early Morning Cold-Start Issues, 2 of 2
March 30th, 2019
Hopefully she can get the Jeep started so she can go jump-off the Monte Carlo. It turns over a little slower than normal because of the cold. She pats the dash and rubs the steering wheel to encourage the old Jeep to start up for her. It responds by sputtering, which gets her excited. She keeps on encouraging the car but it just isn't staying running. She stops to give the car a break for a few moments before trying again. That seemed to do the trick because she finally gets it cranked up. She gives it some good revs with her high heeled boots while patting the dash and rubbing the steering wheel as a 'thank you' to the car cooperating for her.
By the time she gets it over to the Monte Carlo, she doesn't want to fool with it now and leaves it for another time…all that work and struggling for nothing!
*Sorry about the poor filming at a few spots.
---