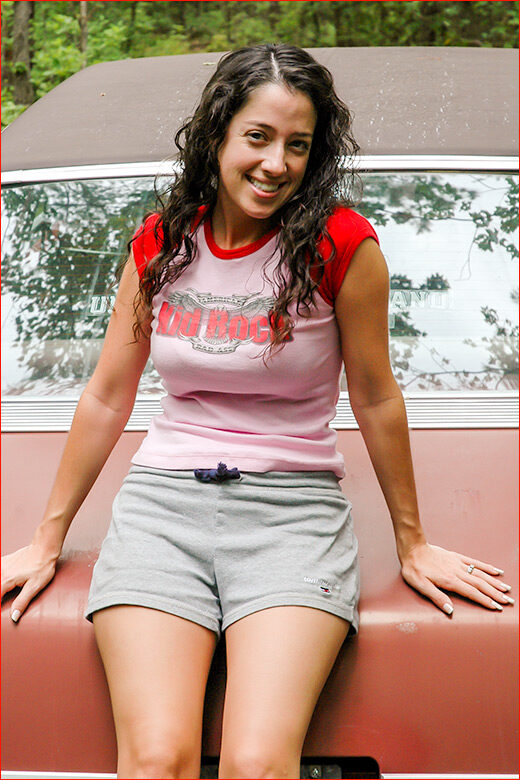 Shoe Size: 6-7.5
Shoe Size:  6 in boots; 7 for sandals, 7 1/2 for tennis shoes
Favorite Type of Shoe:  I love dress shoes w/ heels (big or small) and boots.  I love shoes 🙂
Smokes:  no
Favorite Car:  Do Monster Trucks count? 🙂 Ummm . . . a car I guess it would have to be the 2005 Aston Martin DB9 in Red or Silver
Favorite genre of pedal pumping to do?
My favorite genre is stunt/muddin'.  I love monster trucks – pushing that pedal to the floor so you can smash over cars.  That's awesome!!  I like to go muddin' and getting stuck as well.  When I'm muddin' it's a great feeling to push the pedal as far as it'll go, so I can gain speed through some huge mud holes and bounce everyone around in the vehicle 🙂  Not that I did that on purpose or anything. . . he he he  Cranking and revving are good too. I get so frustrated when I'm cranking though.  If I can't get it to work after 2 or 3 tries, then I just feel like beating the crap out of the vehicle. Yes, violence isn't good, but at least it can't fight back 🙂  Revving is fun . . . you can get louder and louder as you're working the muscles in your leg. Now, that's a great way to tone.  Don't go tell everyone my secret though.
What cars do you or have you owned?
I currently have a '99 Honda Accord.  I have owned a '99 green Mazda Protege, '88 tan Buick Regal Custom, '00 red Mazda Protege, '00 maroon Chevy Malibu, '99 green Mitsubishi Mirage, and a '99 red Mercury Mystique.
Worst Car Trouble Experience:
Everyday of my life when I had the '88 Buick Regal.  Here's the short story . . . My mom bought it new in '88 and I got it when I was 16 (which was '96).  So, it was already an old car to me and I was embarrassed to death to drive it.  In the summer, my air conditioner would always go out.  In the winter, my car would always take forever to start and most of the time it would go dead anytime I stopped.  I had this car until my senior year of college in '00 when I got a Protege.  Well, I kept the Buick, but didn't drive it.  In between cars and in financial hardships when I had no other car to buy, I would drive it.  I didn't sell the Buick until December of 2004, and I've regretted it ever since.  It gave me tons of trouble, but the memories of being so frustrated are great to me now.