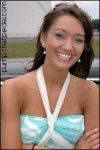 Shoe Size:  7
Favorite Type of Shoe:
I LOVE too many different kinds of shoes!  I'm in heaven in a shoe store!!  OMG!!  But I guess I would have to say HIGH HEELS!
Smokes:  no
Favorite Car:  Ferrari
Favorite genre of pedal pumping to do?
I love driving fast, especially when the road is wet . . . I can slide everywhere!!
What cars do you or have you owned?  Mustang, Accord, BMW, and 4-Runner
Worst Car Trouble Experience:
I have actually never had any car trouble UNTIL this shoot!  I was spoiled . . . if I had a flat tire all I had to do was make one phone call.  SO it was definitely an experience to even drive these cars.  I don't even know how to explain it!  It was interesting!