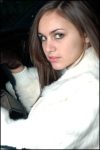 Shoe Size:  7.5
Favorite Type of Shoe:  high heels
Smokes:  No.
Favorite Car:  new Camaros
What cars do you or have you owned?  2008 White Honda Civic, 2002 Black VW Beetle, Jeep
Worst Car Trouble Experience:  My bug ran out of oil while driving on the interstate.  It ended up slowing to a stop and wouldn't crank.  It was acting similar to when my Jeep in high school wouldn't start in the parking lot one day.  I'd give it some gas and it would sputter like it wanted to start but wouldn't stay running.  I tried cranking it for a while but I eventually wore the battery down.
Joined PTP: November 28, 2010
From: North Georgia
Birthdate: May 1991