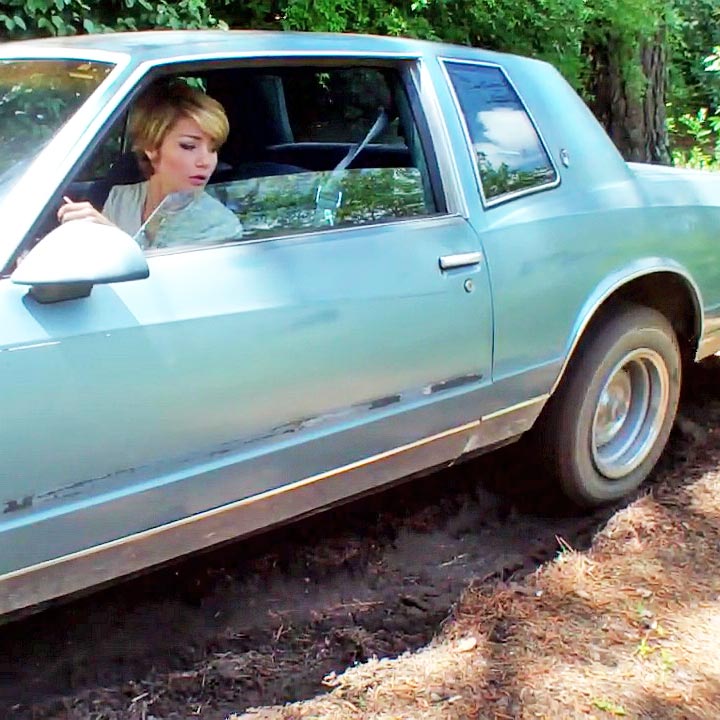 Kimberly Heart in "But wait…there's more!", 1 of 2
April 21st, 2023
"This day can't get any worse." is a phrase you should never ever mutter because some guy named Murphy once said, "I'm gonna get you, my pretty!!!" …or something like that. Regardless, Kimberly finds out that yes, things can get substantially worse.
She's having one of 'those' days today. She's already late for work when she comes sluggishly into the kitchen with her boots in hand. She's about to leave and just as she's booting up she gets a call from her boss. She tells him she's on her way but her attitude definitely doesn't help the situation. Whatever, she's over it already today. She sarcastically asks if it's okay for her to put her boots on so she can leave and then hangs up the phone.. She finishes getting her socks and boots on then heads out the door to go to work.
But wait…there's more!
She gets in her car and yup, it won't start. Watching through the open drivers door, she fights with the car.
"Come on, almost there…come on!" she begs the car, pumping it and holding the gas pedal. It teases her often but her booted foot just keeps flooding it out. She's bouncing, begging, pumping, hoping and finally the car fires up and she can get to work.
But wait…there's more!
She's parked the car off the driveway a little and has to turn it around in the bushes and from the looks of the car, she already had a battle in the mud with it. As she backs the car up to turn it around, it stalls on her.
"Sometimes you need a man." she mumbles while cranking the engine again. She's not as hopefully this time and seems to be on the verge of giving up. But she knows this car is a piece of shit and you just have to be more persistent than it. It pays off when the engine fires up again and NOW she can get to work.
But wait…there's more!
She revs it a few times, puts it in 'D', hits the gas and her wheels just spin. She gives it a rock or two then puts it into 'R' to get a bit more of a running start. She puts it into 'D' again, rolls into the gas and wheels just start spinning again. She rocks her body back-and-forth in her seat, turns the steering wheel and starts squeezing the throttle open more but she's made the mistake of dropping her front wheels off the driveway and now it's a big ledge she has to try to get up over which isn't looking likely.
Remember how she said this day couldn't get any worse?
But wait…there's more!
---