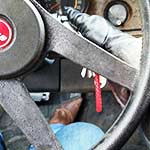 Scarlet Startups in Boots Compilation, 14 of 21
November 29th, 2020
Starting up the Jeep in brown leather cowgirl boots, quick.
Cranking up the Cadillac in flat OTK black leather boots and leggings.
Back-to-back cranking up the Monte Carlo in brown leather Frye riding boots.
Then more Jeep & Monte Carlo startup's in her black and brown leather boots with a finale of her starting the cold Camaro in leather gloves, leather jacket and her brown leather cowgirl boots.
---