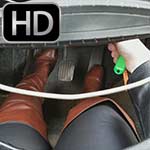 Scarlet Startups in Boots Compilation, 17 of 21
January 31st, 2021
Scenes in this clip:
-Some good struggling, sputtering & stalling getting the Jeep fired up in brown Shyanne cowgirl boots over light jeans.
-Rough start in the Caddy wearing black, metal-tipped cowgirl boots.
-Cold starting the Volvo with the battery getting weak in brown leather Frye over-the-knee boots, leather leggings and leather jacket.
---