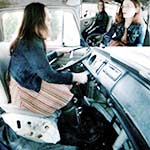 Anabelle, Cassandra, Kimber & Scarlet Cold Start & Drive
February 15th, 2017
The video opens with all four girls coming out of the garage, ready to go out. They're all going to climb in the old VW Bus but Scarlet sees the Jeep is blocking the driveway. Kimber Woods mumbles that she couldn't get it started earlier and Cassandra follows that up with telling everyone she got it started last time. So, that leaves Anabelle Pync as the one who gets a go at it. Moaning at her being 'selected', she takes the keys and heads to the Jeep while the other three climb into the Bus.
For a while, you jump back and forth from the Bus to the Jeep to watch both Scarlet and Anabelle have issues cranking up their respective vehicles. You see a picture-in-picture view of Scarlet cranking the Bus from the front windshield and passenger side while you get a full screen, separate view of Anabelle cranking the Jeep.
Both girls finally get their vehicles running and after Anabelle moves the Jeep out of the way, she climbs into the Bus and Scarlet can finally drive them to their destination as they all chat and cut up with each other.
vk dmca
---