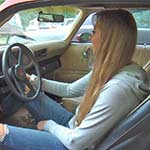 Anna Komis Cranking the Camaro I Sabotaged, 1 of 4
June 30th, 2020
Let's revisit the model that had the longest legs ever, Anna. Even with the seat all the way back, she still doesn't have enough room to stretch her legs out.
This clip series is her trying to get the Camaro started and running after I stuffed a rag in the carburetor. She thinks I'm wanting to do a driving video, so she's a bit embarrassed she can't get the car started. You can tell because she has that semi-smile on her face a lot. She tries and tries but never succeeds.
She's wearing her gray hoodie, tight jeans and brown leather cowgirl boots.
---