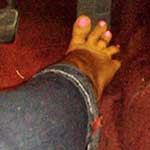 Robin Masters: Ashley Peeling Out at Night, 2 of 2
July 27th, 2019
She's still at it, giving this little car hell!! She's flooring the shit out of the gas pedal and in this second part, she throws in some two-foot slamming of the brake pedal to bring the car to a screeching halt!
She will not go easy.
The car will not enjoy it.
She will not go quietly into the night.
---