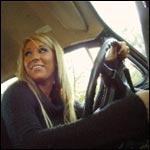 Trying to Go Out with Barbie in the Bug, 1 of 2
March 17th, 2018
This was a special request for a long-time member who wanted me to make it feel like he was 'in the action' of a video. So I take on the role of Barbie's boyfriend who wants her to take us out tonight but also wants to see her struggle to crank some cars. There is a lot of dialogue between us as we play out this scene. The camera work is meant to look as if it's hidden.
It was a fun video to do.
This first part is us getting ready to leave but she has to move the Bug first because it's in the way of the Coronet. So she's trying to get the old Bug started as I make fun of her when it gives her issues because she's flooding it. She does get it started a few times but I sabotage her success.
She's wearing a sweater, torn jeans and dark blue over-the-knee boots.
---