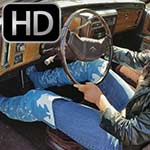 Britney Cranking the Caddy in Blue & White Boots Smoky Exhaust
February 20th, 2018
You've been helping Britney with her car troubles this morning. She killed the battery already and you pull out the battery charger so she can give the big old Caddy round 2! She's changed into a leather jacket and some tall blue & white cowgirl boots since it's cold out.
She gets situated in the car and start spinning the engine over. It's really flooded and sputters a lot. There is some thick smoke coming from the exhaust while cranking.
She finally gets the car to start, yay!
---