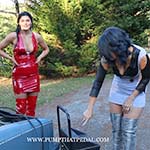 Britney & Jane Halloween 2017 Car Issues
December 2nd, 2017
Halloween in December? Sure, why not?
The girls have their sexy 'costumes' on and have a shit ton of trouble getting the Monte Carlo to start. They wanted to surprise their men by showing up at the party with these sexy outfits on but looks like they might have to be rescued instead…
The starter is bad and keeps draining the batteries, so they brought the big jump-box out but neither one of them can get the damn thing started!
---