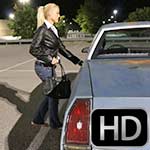 Brooke Stranded at the Store at Night – #749
September 1st, 2017
She's doing a bit of shopping at the local department store. It's getting close to closing time, so she's perusing her way towards the door. She's wearing a black leather jacket, white button down shirt, jeans, black socks and light colored ballet flats. She's finally at the door and leaves the store.
The camera cuts to an inside shot looking at Brooke walking across the parking lot to her car. She gets in, slides the key and pumps the gas a few times before spinning the engine over. She thought she saw something out of the corner of her eye but maybe it was nothing. So she tries again, pumping the gas a few times and then turning the key but the car doesn't start this time either. She might of flooded it, so she holds the pedal down some but that doesn't do anything. She starts getting more nervous and begins pumping the pedal more aggressively and begging the car to start for her. She doesn't know it yet but someone is walking up behind her car…
Filmed from various angles: outside the car and inside.
---