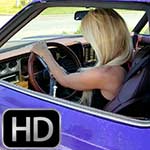 Brooke Bouncing Flooding Cranking Revving the Laguna
December 12th, 2019
The video starts out from Jane's point-of-view as she's narrating a short segment of her watching Brooke cranking that 1976 Chevy Laguna. You get a good view of that bounce she does when pumping the stiff gas pedal.
The rest of the video is from my point-of-view, which is similar to Jane's, watching Brooke struggle continuously to turn the car around. It keeps stalling on her and is really hard start each time. Lots of pumping and bouncing to get the car started each time and when it finally starts, there's is a cloud of smoke, dust and dirty that follows each re-fire of the engine.
When Brooke gets it turned around and parked finally, Jane hops in and they do some revving together. Jane straddles the console and pumps the pedal a few times with her left boot also.
---