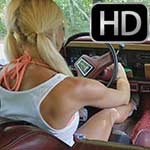 Brooke & Jane Domino Both Backfire the Jeep
February 4th, 2021
Filming from the backseat, both girls climb in the old Jeep. They buckle up and Brooke, in her pig-tails, short shorts and glitter stripper heels goes to start the car. Lots of pumping and holding to the floor as the battery is getting weak, the car sputters and teases her then screams to life because she has the pedal pinned to the floor.
After some stalling, sputtering and struggling and just as the battery is about to die, the Jeep gives a loud backfire and scares the hell out of the girls, Brooke more than Jane. After calming down, Brooke tries it again but the battery is dead.
Battery changed, they swap and Jane gives it a go but has similar issues with it being flooded and sputtering on her. After a while, Jane causes a nice big backfire of her own. She revs it a few times and then swaps seats again so that Brooke can now drive.
On the drive back, Brooke floors the gas pedal in those glittery heels!
---