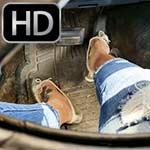 Brooke, Jane & Jewels – The Great Flood, 1 of 3
October 10th, 2019
That old Monte Carlo is flooded beyond all belief and these three try their best to get it started.
This first clip starts out with Jane filming herself getting in the car and trying to start it in a pair of gold ballet flats. She tries for a bit before she goes in to get reinforcements. Now it's Brooke in the drivers seat and this next segment is of Jane trying to get the camera situated while the car is being looked by a high-quality automotive engineer. 😉
Ok, now Brooke gives it some tries but she has the same amount of luck Jane did, which was zero! With the camera mounted on the front windshield looking at Brooke's upper body, she tries for a few minutes until the end of the clip where she swaps with Jane again.
---