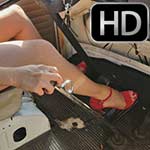 Brooke, Jane & Vivian in The 2-Minute Bus Challenge, 2 of 2
December 6th, 2019
Part 2 starts off with Vivian taking off in the Bus, trying to do as much as she can in her 2-minutes. She floors the gas in her red strappy stilettos, trying to drive the Bus as hard as she can. She gets to the house just as her time is running out and finishes out her time with some hard revs of the gas pedal!
Next is Brooke who is confident and knows she's gonna win this! She's wearing some pink-strap flip flops as she starts and backs up the Bus out of the drive way and hits the road. She drives for her 2-minutes as the girls banter back and forth.
Last up is Jane, who is being miss-sassy-pants…she must be in competition mode! She's wearing flat black strappy sandals and is a bit more familiar with the Bus as you can tell from her immediate hard driving of it. She floors it, takes the rpm's high and gives it hell!
---