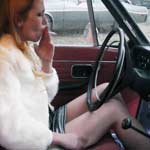 Cassandra Revving the Volvo #321
September 15th, 2013
The Scenario:
Cassandra has picked up her car from the mechanic.  He told her that car need some good revving so she slides behind the wheel of the car and
revs, mostly aggressive, per her mechanics instruction. While she revs the car, Cassandra texts and calls Scarlet with her cell phone,
writes a note and smokes a cigarette all while teasing by lifting her skirt up high on her legs.
---