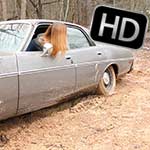 Cassandra Stuck Fun in the Coronet in Boots, 1 of 3
February 13th, 2021
This series was an unintentional little gem that just kinda happened.
This first clip in the series is after we had been filming numerous stuck videos that day and put various ruts, trenches and giant holes in her driveway that got tore-up by utility workers the previous week. So, I'm having her get the car setup for a scene where she gets stuck coming into her driveway, but as she's backing up, she jumps right back into a hole she buried the Coronet in not 20 minutes prior to that…ugh! She starts rocking and spinning the wheels but I can imagine she can feel the absolute nothing she's getting from her efforts. But hey, keep trying!
"Ewww, that sounds soupy." she says when she starts hearing the really wet sloshing around of mud.
---