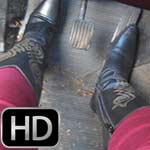 Curator Cassandra – Log Entry #014
February 28th, 2016
-"The work is coming along nicely on this vintage Bus. The keys were in it, so I fired it up to see how it ran. It sounds good and I love my tan suede loafers I'm wearing, they're so comfy!"
-"About to leave for the day, meeting some friends for drinks. I finally get a chance to wear these killer black heels! I wanted to fire up that old gray car we've had here for a while. Brb, let's see if it starts!"
-"Oh, almost forgot about the errands I had to run in the old Volvo. I was wearing my black cowgirl boots at the time and almost couldn't get the damn thing to start but messing with all these old cars has given me experience in what I'd like to call 'pedal pumping,' fun stuff!
---