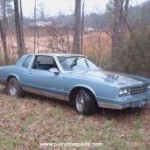 Damara Slips & Slides & Stalls in the Mud, 1 of 3
May 3rd, 2012
So, here's the back-story to this clip:
"One time, in a galaxy far far…." –oops, not quite.
*ahem*
"Once upon a time, this princess…" –dammit!
Ok ok, for real….so Damara has on this particular outfit for a cranking custom video we are to do in the Monte Carlo.  It was raining that whole day and made filming our customs slow.  What you don't see is that Scarlet & Tiffany are in the Volvo if you glimpse out the drivers door window in the beginning of this clip.  They were waiting for Damara and I to leave so they could finish their custom video.  Because we had been using different cars, Damara had to drive around this little 'loop' part of the driveway at our friend's house.  There is an electrical box near this path and I have to tell Damara to be careful.  She is maneuvering the Monte and we're talking…well, more like me instructing her what part to avoid.  You can hear me tell her to stop before she runs over something she isn't.  She finally sees the path but she wasn't paying attention as she was backing up…too busy looking forward.  When she puts it in 'Drive', she just feels the wheels slip in the muck and the back end gets a bit floaty.  Needless to say, this begins the stuck dilemma that couldn't of come at a worse time.  The clock is ticking, a custom needs to be done in that car at a specific location and happenstance has Damara stuck (again) in the same boots she wore in her past stuck custom video.  Not planned at all!
Enjoy the first part of this three part series of Damara showing you what it's like and how girls REALLY act when they get stuck for real.

---