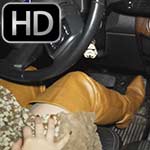 Vivian's Car Won't Start So Fallonn Picks Her Up, 1 of 2
June 5th, 2019
Vivian's on the phone telling Fallonn that she's on the way. In her hurry, she almost forgets the camera. She grabs it and heads out to be on her way.
The video cuts to a low shot from the passenger floorboard looking up at Vivian begging her car to start as she's bouncing in the seat from pumping the gas. It looks like it's not going to start. Fortunately, she told Fallonn her issues and not long after, Fallonn shows up. Vivian grabs her things, again, and hops in Fallonn's big turbo-diesel truck.
The video cuts to later in the day, after the shoot they had with Fallonn driving these back-roads in her thigh high cowgirl boots.
---