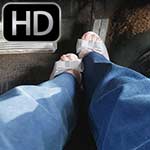 Ginger Cranking the Coronet in Silver Heels, Out of Gas?
August 20th, 2020
She heads over to the Coronet to get it started but isn't having much luck. Jane hops in with her and watches and both girls are thinking it might be out of gas.
Ginger's pov in the beginning until Jane comes in and begins filming from the passenger side. Some outside shots as well.
---