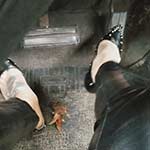 Jane Domino Can't Start the Coronet in Studded Pumps
July 3rd, 2018
"Fetch the Coronet!" I told her
"As you wish." she replied.
Well, not exactly like that but I did ask if she could go get the Coronet while I sleep in. 😀 Unfortunately for her, the battery was a weak one and in the damp chilly weather, the car was like, "Eff U!!!" So this is her self-filming her attempt at getting the old Dodge fired up wearing some sexy leather pants and black leather pumps with metal studs on them.
---