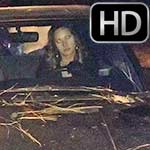 Jane Domino Date Night Disaster in the Renault
February 12th, 2021
She's dressed up for the date night you two have planned. Wearing her shiny go-go style boots, a sexy low-cut top, miniskirt, a nice black blazer and half-hand leather gloves. She walks to the Renault and tells you to wait a second so she can pull it forward away from the wall so you can get in.
Standing in front of the car, she gets in, turns on the headlights and you can hear the firm 'thump thump thump' of her hitting the gas pedal a few times to prime the car to start. The headlights dim when she engages the starter and turns the engine over for a few seconds. It doesn't start. She tries again and you can see her body bouncing as she pumps the gas pedal to properly cold-start an old car such as this.
After a while of her trying, you walk to the drivers side and open the door to see what is going on.
"It doesn't smell flooded." she says after leaning out and take a few sniffs of the air.
"I'm sorry babe, I really wanted to take you out tonight!" she says, whining at how her plan to treat you are falling apart each time the car cranks without starting.
"Babe, I flooded it. I'm sorry." she says, pouting…
---