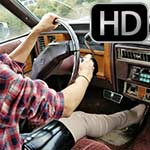 A Day Out in the Caddy with Jane in Shiny Leggings, 3 of 4
June 23rd, 2020
Let's go ahead and finish out this series…
You're done with your business inside the building and come out to the parking lot to find Jane has swapped boots. She's standing at the back of the Caddy, waiting for you and says, "Come on, let's go, I'll give you a good ride on the way back." …how can you not take her up on that??
She teases with you a bit when her car won't start right up. She's bouncing in her seat, pumping the gas and looking at you as she lightly begs. She gets the car started and takes you on that ride you're waiting on. She gives that Caddy floor-mounted gas pedal a workout!
---