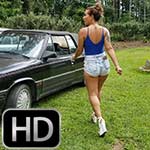 Jane Domino Getting Cars Ready for Incoming Storm
June 5th, 2020
So we're mostly done for the day and saw that a storm is heading our way, so I just told her to get the cars parked, windows rolled up and everything sorted. She's wearing a sexy blue tank top, itty bitty acid washed shorts and these slutalicious strappy wedge peep-toe sandals. She carefully walks to the Renault, gets it started after some cranking attempts and proceeds to rev it before pulling it onto the driveway and rolling the windows up.
Once done with that, she moves on to the Camaro, which starts up but dies on her. The thunder rolls in the distance as she cranks the car, putting them full-n-meaty thighs into the pumping. I think she's intentionally teasing by letting the car start then die as I stand in the rain and get wet….
There is bantering back-and-forth between us in this video.
---