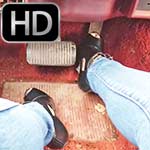 Jane Domino Rainy & Muddy PP Fun in Peep Toe Booties
October 5th, 2018
She gives you guys a plethora of action today in various cars. It's been raining and she goes out to fire up the Cadillac. It's not too terribly stubborn today but because of the humidity and temps, it does make for a lot of exhaust smoke/condensation as she revs it up. She plays for a while before moving on to getting the Jeep started and moved.
This Jeep scene is filmed from both inside the car (her self-filming) and outside the car. She gets the Jeep started with a little more of a struggle than the Cadillac. But that's only part of her problem as the other problem is that it's stuck in the mud! The Jeep was parked just off the driveway (where Sasha got it stuck) and even in 4-wheel drive, it's just spinning. I'm not wanting her to back-up on the driveway as it'll end up tearing up more of the yard but after her trying to pull out unsuccessfully for a while, I just finally guide her back on to the driveway with only minimal extra yard damage.
Lastly, she hops in the Monte Carlo, cranks it up (with some struggling, of course!) and drives it back to the house to finish out this clip.
---