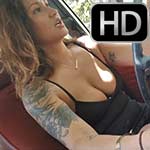 Jane Domino's One Night Stand with a Stuck Fetishist, 1 of 6
September 6th, 2020
Jane is video chatting with her girlfriend as she's gathering her things to leave the house of this guy she met last night. Jane is explaining how her car got stuck in the mud trying to leave and what started out as a meh so-so date turned into one of the best one-night stands she's had. Jane explains to her girlfriend just how turned on her date was getting watching her try to get her car out of the mud and in turn, it was making her more hot-n-bothered. Needless to say, they finished the rocking back in the house!
After catching her girlfriend up on the who-what-when-where-why's, Jane is asking her friend for some help on getting her car unstuck. Jane mounts her phone to her front windshield so she can talk to her friend and also so her friend can see and maybe offer some tips.
Jane takes off the old muddy rubber boots she borrowed from the back porch of her dates house and slips on her black leather boots. She's wearing her very sexy and low-cut black dress that should have been more than enough to drive him wild but you know how these pedal pumping guys are…pump it or dump it.
---