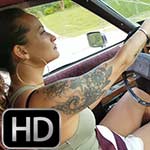 Jane, Jewels & Vivian Cowgirl Boots in the Caddy, 2 of 2
January 19th, 2021
Jane finishes out the drive and takes them all back to the house where she does a little revving when she parks the car before swapping seats, and boots, with Jewels.
"Are ya ready?" Jewels asks, as she gets her foot slipped into the right boot only and starts revving. She slips the other boot on while revving and just has a little chat with Jane & Vivian while revving the car, no biggie.
Vivian throws her boots into Janes lap and pumps her foot while Jane films.
When they're done filming, the do a little debooting session outside the car before the clip ends.
---