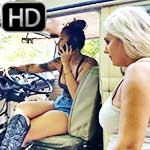 Jane, Jewels & Vivian in: "Rescue Squad…Engaged!"
April 29th, 2020
So, this almost 30-minute video could be viewed as a documentary of what life is like being a PTP model. I've done previous videos that give you a glimpse of what it's like but this is a more comprehensive look at what it's like when I'm away and these little pussycats play…they break shit!! lol
Vivian takes the Bus out for a spin but ends up breaking a CV axle. When Jane & Jewels boot up to go rescue her, they couldn't get the Cadillac cranked up. So poor Vivian is stranded on the side of the road, waiting for help as the video cuts to Jane & Jewels, at that same moment, struggling with the Caddy (great scene!!). The girls are eventually reunited at the Bus and Vivian is so relieved to see them.
The last scene is Jane staying with the Bus until the tow-truck arrives and gets it loaded.
---