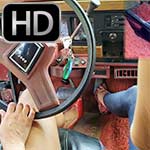 Jane, Jewels & Vivian Give the Jeep Hell in Heels
February 16th, 2020
These girls take turn revving this old Jeep up in their high heeled shoes. Vivian starts off first, revving it in her gold over-the-knee boots before Jewels leans over from the passenger seat and revs it up in her red/black snake print heels. Feeling a bit left out, Jane swaps with Vivian to do some hard revving in her red patent stilettos!
While Vivian is standing on drivers side, she reaches her boot across Janes legs to get another few hard revs in before the video ends.
This video is filmed from the backseat looking over their shoulders with a picture-in-picture view down in the footwell on the drivers-side looking at the gas pedal from underneath the brake pedal.
---