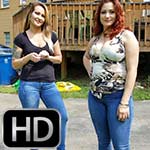 Jane & Vivian '30 Second Challenge' in the Bus, 1 of 3
August 4th, 2020
This video starts out with a fun little game where each girl gets 30-seconds to try and get the old '71 VW Camper Bus started. It was having what I thought was a fuel issue (ended up being ignition) and was really hard to start and then ran really rough the day before. So they already had some experience with it and knew what to expect.
The game starts with Jane getting first crack at it and this first clip of the series shows both girls using up the full 30-seconds multiple times without either able to get it started. The clip ends during one of Vivian's attempts and she ends up draining that battery all the way down.
Both girls are wearing low-cut tops, super tight jeans and strappy sandals.
---