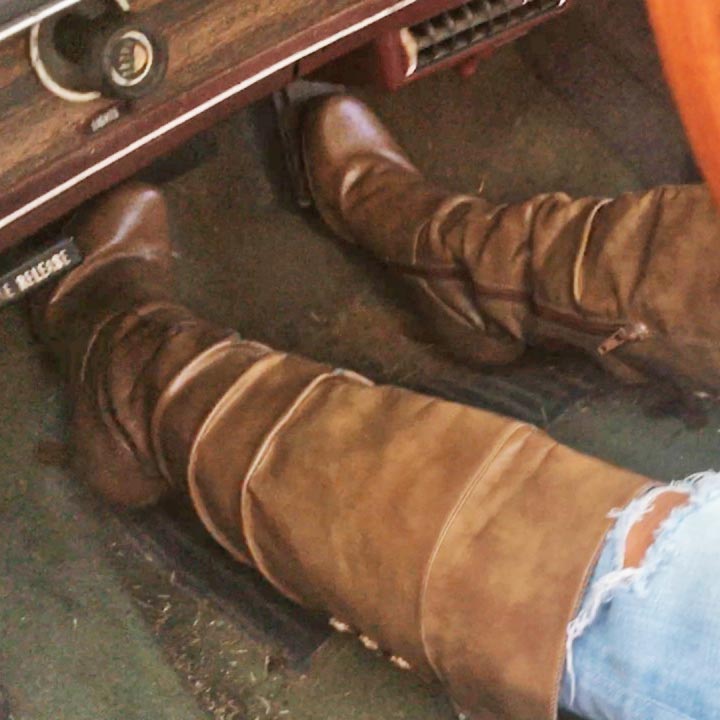 Revving fun is over, time to park the car. She's trying to get the car into gear but it's stiffer than it normall is. She has to use both hands to force it into reverse. Now that she's good, she gets on the gas and starts pressing the throttle down but the car isn't moving. The engine rpms are going up slowly as her booted foot keeps pushing the gas pedal more and more.
"Come on baby." she says, looking around wondering what the deal is. She then decides to go forward instead and pulls the car through the yard. Brooke is filming outside and yells, "Rev it up, Jewels!" and instead of taking it out of gear, Jewels just holds the brake down and lightly pumps on the gas pedal some to get the engine rpms to go up and down slightly without breaking the wheels loose.
Brooke tells her to rev it harder so Jewels puts it in park and holds that pedal down again, making the engine redline for a few seconds.
"Look at that smoke." Brooke says, filming some of the exhaust smoke and soot Jewels is blowing it out. Brooke then climbs in and tells her to take us for a ride! Jewels puts the car in gear and the damn thing dies.
"Are you serious?!" Jewels says, jamming the car into park. She pumps on the gas and turns the engine over but it doesn't even sputter.
"Come on baby!" she says, pumping it and turning the engine over, begging the car to start.
---