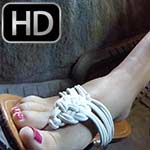 Jewels Cranks & Moves the Monte White Thong Sandals (Feet)
April 11th, 2020
So we're about to do a custom video and have to get the car into position. Just before the video starts, she thought we were going ahead with the first scene of the custom but instead, we were moving the car. So you hear me when the video starts telling her to act like she just got in so we can move. So that's where the video starts and with two camera views, one on her feet and one over her shoulder, you watch her crank the old Monte Carlo till it starts. She revs it up once it's running and then moves it around the driveway till it's in the right spot. She then kicks off her sandals and slips on her leather thigh high boots which are needed for the custom video.
A mix of stuff in this clip for you toe, feet, sandals, boots, cranking, revving and pedal stomping guys out there. 🙂

*This clip is the same as part 1 except it's strictly the feet view. The camera is positioned behind the pedals.
---