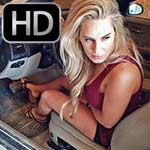 First Look: 2009 BMW, Revving with Jewels
March 26th, 2020
Here's a glimpse at our newest addition, a 2009 BMW 128i convertible. We've had some work on it already to get it running much better than it was but as you can tell in the video, there are a few more things to tweak to smooth it out.
Jewels, who has had a BMW before, does some revving in the car while it's parked in the garage.
What do you folks think about it?
---