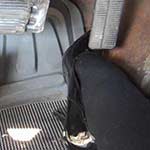 Kimberly in the Possessed Camaro – #449
September 27th, 2015
We pick up with Kimberly having issues with her gas pedal sticking to the floor.  It's not the first time it's happened, so she's not too worried about and manages to get it unstuck.  With a sigh of relief, she mumbles about needing to get a new car when suddenly, the gas pedal pushes itself to the floor and pins Kimberly's foot beneath it!!
"Oh no, oh god!!" she screams as the car is accelerating with no chance of stopping it!  After a few horrifying miles, she's able to free her foot with the combined efforts of her leg and hands.
"Thank God!!" she says, with a huge sigh of relief.
She places her foot on the brake pedal to slow down and pull over but….oh god….her brakes don't work!!!
---