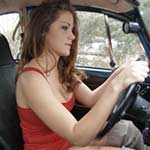 Kimberly Heart Cranks & Revs the Bug in Red Dress & Boots
June 6th, 2020
She loved the Bug and wanted to try and get it started. We were using the Coronet just before this video and she felt the Bug was just 'calling her name'. So, give the girl what she wants, eh? 🙂
She's humming to herself when she gets into the car and as she's getting adjusted, she has to adjust her dress because it's almost a little too short (if such a thing exists). Her taupe/light gray boots come just above her knees.
The first angle is from a mounted camera on the passenger side windshield area with the second angle being down behind the pedals. Some great cranking and begging as the Bug sputters, chugs and teases her for about the first half of the video. I told her she was going to have issues and if she ever did get it started, she can't let it die.
---