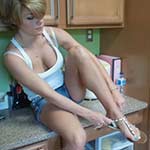 Kimberly Heart Struggling in White Thong Sandals, 2 of 2
January 12th, 2019
She's in a bit of a jam now after getting off the driveway and into the mud. The top of the ground is dry but underneath that shallow layer there is enough mud to prevent her from being able to get out.
This spot is always fun to have girls turn around in because it angles uphill a little and the driveway has had enough dirt wash away on it's edge to form a small curb that is hard to get over. That combined with the Monte Carlo loving to stall when girls get off the gas too quick makes for a fun and sexy struggle to watch!
Kimberly cranks, spins, revs and begs the car to start and get out of the mud for her but it's no use, she can't get it unstuck and has to go inside to call her babe and explain that she's going to be late because she can't get her car unstuck. She says she'll change and go try it again and profusely apologizes before hanging up the phone.
---