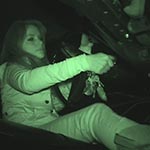 Kimberly Heart Cranking Night Vision Boyfriend Surprise – 1 of 2
March 11th, 2018
She calls up her boyfriend to discuss that they're plans for the night and he asks if she wants to go out.
"Of course I want to go out!" she replies.
They discuss where they might go and then she asks which car does he want her to pick him up in. She lists out the cars she can take. He loves it when she drives his old cars. She heads to the Coronet to see if she can get it started. She begs and pleads with the car, cranking in the pitch black with her well-worn cowgirl boots. The car sputters and teases her but the video ends with her unsuccessfully getting it cranked up.
---