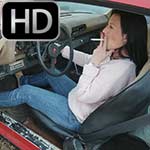 Laney & Vivian Start Up the Cars in Loafers – 1 of 2
March 2nd, 2018
Laney Torino has made her way back to us after a bit of a hiatus. Her and Vivian break in some new loafers that were sent in recently by taking the bundle of keys and starting up the PTP Fleet.
First car on the list is the 1980 Cadillac Coupe Deville. It was driven just a little while before this video was filmed, so it fires right up. Vivian turns it off, pumps the gas to flood it out but that damn thing wants to run! Fine, she'll play with it later. She heads off to where the rest of the cars are parked.
They play in the Camaro for most of this clip and Laney smokes a cigarette when it's her turn to try and get it started. After that, they end the clip with Vivian getting the Monte Carlo started.
---