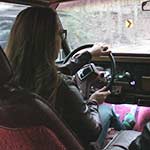 Mandie Driving the Jeep in Green Socks & Birkenstock Sandals
March 16th, 2019
Mandie & Tinsley head to the Jeep and Mandie isn't really paying attention to which side she's getting in on and when she realizes she's driving, she looks up and asks Tinsley, "Why am I driving?"
Tinsley just shrugs her off, "Because…"
Whatever…Mandie rolls with it and gets the Jeep cranked up after a few tries and some pumping of the gas pedal in her brown Birkenstocks and bright green socks. They chat a bit during the drive while the camera stays in the backseat viewing both gals. Mandie comes down a hill to a stop sign and the Jeep stalls. Mandie gets it started again after a few tries and they are on their way again until they reach the car lot.
---