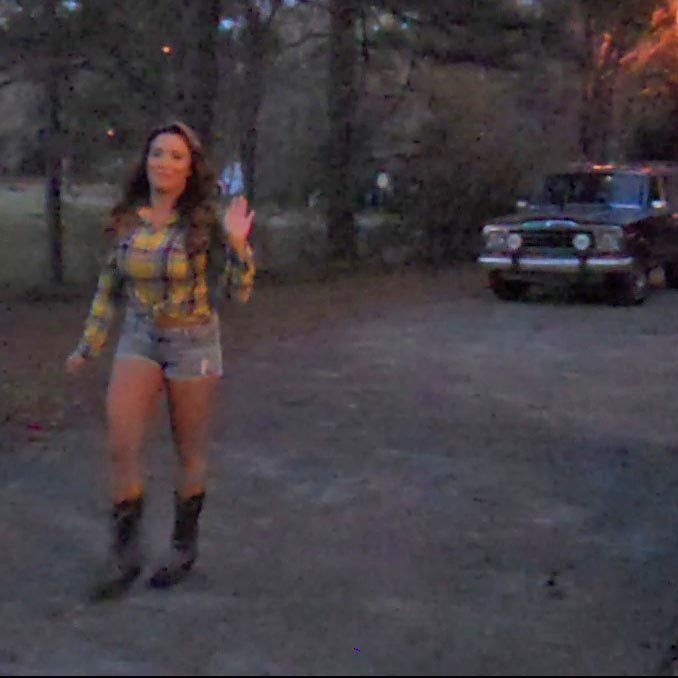 Mandie in 'Sexy Cowgirl Wants to Pedal Pump'
August 14th, 2022
"Hey! Whatcha doin?!" Mandie asks, sneaking up on you while you're messing with the Jeep.
"So you want me to move the vehicles?" she asks but then immediately follows that with, "I want to move them!"
Can't really argue with a girl who is eager to hop in your old cars and take control. She walks away to come down the steps and when she comes around the bushes, you see her full outfit. She teases you a little and asks, "Soooo, what do ya think?" referring to her sexy country girl outfit. I'm sure the jaw-dropped expression on your face is enough of an answer.
She climbs in the old Jeep and pumps the gas really quick and turns the key — it fires right up. Apparently, that wasn't what she wanted to do. She turns the engine off and pumps the gas pedal a bunch of times before trying it again. It doesn't start as easy but does fire up. She starts pumping again, a LOT.
"Oh, I smell that gas!" she says and tries the car again. Takes even longer to start, but, it does start. She keeps repeating this cycle for a while, just wanting to play around while you watch.
After playing in the Jeep, she moves to the old Camaro, does some similar teasing cranking with trying to flood it out to put on a little show. When she gets it parked, she goes back to the Jeep to fire it up and park it. Thus, brings the end of the show.
---