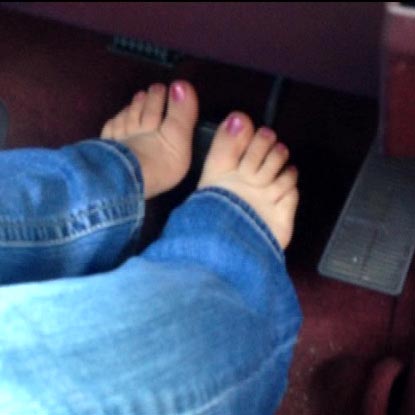 Robin Masters: May Disobeys Parents & Takes Car Out for Drive, Gets Stuck
February 20th, 2022
May is grounded but when has that ever stopped her? She's getting ready to go out, she doesn't care if she's in trouble or going to get into more trouble. She puts some fresh paint on her toes and out the door her moms car she goes.
She gets in, pumps the gas a bunch of times with her bare feet and fires the old Cutlass up. She buckles in and leaves…no turning back now! She drives around the neighborhood for a while before taking a short cut and ends up a little stuck in the mud. If she can't get the car unstuck, she's going to be in BIG trouble. She bounces in the seat while pumping on the gas pedal trying to get the car out. After a while, she's able to and does some peeling out to try and clear the mud off the tires. She drives around some more before going back home.
She gets back to the house and is on the phone with her friend telling her about the fun she had pedal pushing. She's tired now and would like a foot massage after all her pumping.
---