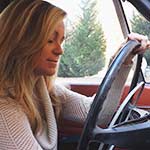 Reese Cranking the Volvo & Coronet in OTK Boots
October 31st, 2018
This video has a couple of different scenes for a custom video involving the Volvo.
In the first scene, she's trying to start the Volvo up after a custom cranking clip. It's flooded pretty damn good and the battery is weak, so she's gently pumping the pedal and trying her best to get it started but the battery is too weak.
The next scene is later on and she's trying to move it but the battery is dead.
The last scene is her starting up the stubborn Coronet to move it out of the way.
---