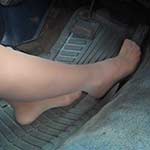 Riley's Very Bad Day With the Cars, 1 of 2
January 16th, 2016
Taking the Monte out to do some customs. Takes a few tries to get it started, nothing unusual, then we're off. She's driving in pantyhose and flat pointy slippers. We get to the location and time to film a cranking customs, video fades out.
Fades back in to where we're leaving the location after having some starter issues with the car. As you can tell, the starter is shot and the car won't start now. It's turning over very slowly. She tries it afew times while we wait for our rescuer, Scarlet, to arrive.
We're now leaving again to do a different custom. We're in the Jeep now and it also takes a few tries to get going but, yet again, we're off on our way as she's driving in bare legs and blue loafers.
---