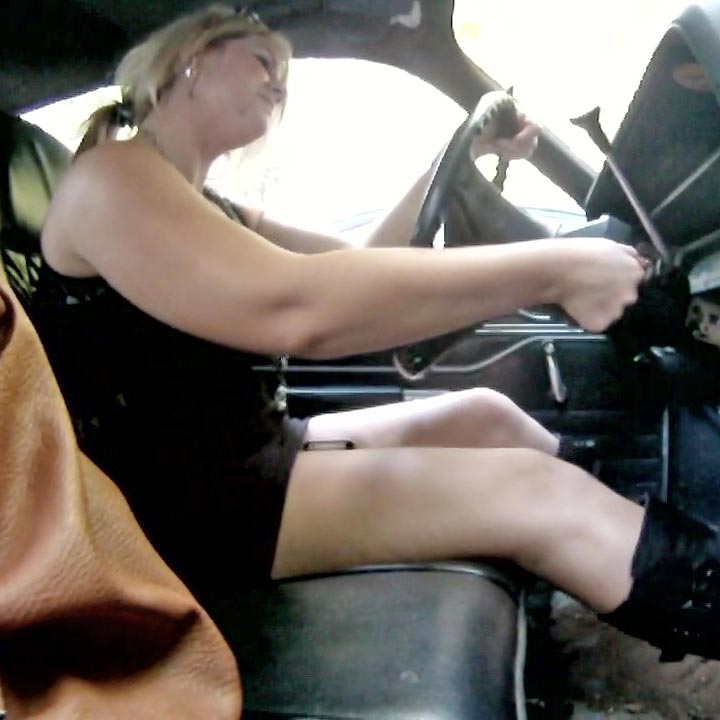 Rockell Starbux Pedal Pumping Fun in Black Riding Boots, 1 of 2
September 10th, 2021
Rockell Starbux has a fun day of cruising around, cranking and revving some of our cars in her flat knee high riding-style boots. She's in the Jeep, fiddling with her busted up phone — I don't think I've EVER met a model with a non-damaged phone. The Jeep is already running and she backs up to do an over-dramatic and completely unnecessary 3-point turn to get around her car. The Jeep stalls once but fires back up and she heads out of the driveway. We get on the road and I give her directions to where we're going; which our first top is the gas station.
Done getting gas, the Jeep (thankfully) fires right up and she gets back on the road. She gets past some traffic and can hit the gas to open it up some but not for long because our turn is coming up. She makes some random noises at the cars she's passing (don't ask me…) and talks about picking up a bunch of guys because she's in an old Jeep…or something.
So we get to our destination and next up is getting the old '74 Coronet started up. She gets the old thing fired up after 3 or 4 tries and immediately starts revving the shit out of it. To hell with letting it warm up a bit or getting oil to all the engine parts; hammer it down and give it hell! lol It stalls after some hard revving and she fires it back up to go right back into her hard ass revving. It stalls again and is a little harder to start. Gotta lover her southern "Dangit!" and "Come awwnn!"
After some more of her putting her size 9.5 boot to the floor, the video ends.
---